Robbie LeValley's cow-calf operation in western Colorado is run by her family—and has been for four generations. Her two sons will be the fifth generation to ranch the lands.
Robbie's ranch also partially owns its own U.S. Department of Agriculture (USDA) processing plant. They market a portion of their outputs through the plant, selling high-quality protein directly to the consumer.
"No one can consume crops from rangeland, but we take that rangeland and convert it into a food product everyone can eat."
Managing the Land for Cattle and Wildlife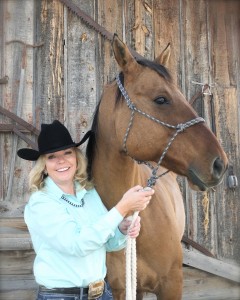 Robbie's ranch proves that managed grazing not only provides for beef cattle, but for wildlife as well.
The private and federal land around Robbie's ranch is home to the Gunnison Sage Grouse, a ground-dwelling bird that is protected as an endangered species. Grazing has helped the Sage Grouse thrive and meet recovery goals  set by the Endangered Species Act. Her data tells her that the number of forb species — what Sage Grouse depend on for nutrition – has increased significantly because of her ranch's efforts. Grass and shrub species she manages provide habitat for Sage Grouse and other wildlife.
"I love when I go out and find new forbs and see the response of the land to how we are managing it. Documenting the rangeland health and showcasing that with pictures is very fulfilling. Grazing from livestock can coexist with – and benefit – the Sage Grouse, and our ranch has shown that. Federal agencies meet with us so we can teach them about what we are doing and show that it is compatible with wildlife and recreation."
The water supply for her public land allotment originates on Robbie's private land. Her ranch has built 17 miles of pipeline, allowing the water to flow from her private supply to the ponds on the public lands. If it were not for the water on her private land, the public land and the Gunnison Sage Grouse would not have water.
"Managed grazing improves the health of the land. That's what makes it sustainable. All we have to do is look to other places where grazing is not sustainable — where there is a decrease in vegetation and production and where management is not as keen – to know that we have an increase in understanding of our lands. We have improved millions of acres of rangeland and managing that land provides a food source for an ever-increasing population."
Fueling the Economy
Ranching not only provides income for her family, but for all the businesses in the county. It fuels the USDA packing plant and provides food for the local community.
The beef cattle herd in Delta County contributes $45 million to the local economy – and Robbie's business is a part of that.
"All of our local banks, our insurance companies, our agriculture service companies, even the restaurants benefit from ranching because agriculture is so critical in this area. All businesses are tied to it being healthy and robust."
Members of the community can come to the USDA plant to purchase anything from half a cow to a steak for the night's dinner. They come to the ranch to see where the cattle are raised and to gain confidence that the animals are treated well.
"I love riding the land and seeing how happy and healthy the animals are because of their environment. All of the work the family does together on the range – it's pretty special."